New SnoreWare Android platform
Technical Framework for Snorek next genearation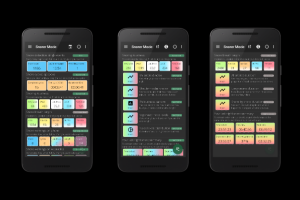 Over the last years we have learnt the Mobile Backend technologies (Google App Engine and Endpoints programmed in Java 7) and after a couple of proves of concept come up with the new Platform.

SnoreWare has evolved from what it was initially, back in January 2015 to what it is today. At that time was thought to be a medical product. Today it is not.
Today is the platform where to rebuild our old products and build new ones. Our product palette will grow soon. Better snore detection, more sleep data collected, an improved data-intensive user interface with a still friendly user experience, with InApp products and subscriptions.

The SnoreWare platform allows us to target new user segments with needs that we have identified over the last three years.

We are happy to release the new SnoreWare platform with some highlights and solved challenges listed below.
To show 24 parameters and related graphics in a mobile phone has been a challenge. In addition some of them can be disabled or could not be subscribed, what has to be shown and made understendable to the user without explanations.

This has been achieved using drawables to dot-line in grey and white the state of data. Android Material icons have helped to give an uniform experience.
Data is collected and sent to the backend where user InApp billing subscriptions are checked and processed results returned to the mobile devices.
DataStore keeps track of graphics and night results for users validated using Google Oauth2. License key and algorithm variables are saved on the backend to keep them away from apk files.
A deserved mention as well for the open source
charting gallery from PhilJay
, which has helped a great deal the development of the platform.
To close this summary we would like to mention the recently release of "Snore Partner", our first App based on SnoreWare targetted for Snorers and their partners sharting the same App with different user experiences targeted to the needs of each of the groups.
No video selected.