New snore detection applications
Covering specific needs of different user types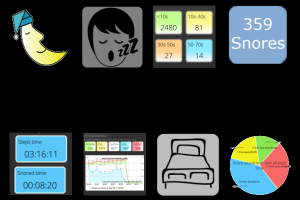 Back in 2016 we developed the technological framework for Snorek's next generation. We are happy to announce the release of six new SnoreWare products targeting the needs of specific users at specific prices and with easier user interfaces.

Through diversification we can reach a higher number of users targeting their needs at special prices. An all-can App is targeted to demanding users with many requirements at one place whereas a simple App is also by definition, less expensive.
Easy Snore and Snore Partner share a common simplified user interface covering different needs. Whereas Snore Partner requires a simplified interface for the Partner, looking for facts, Easy Snore offers it to users -no necessarily partners- that want to have a snoring overview in a glimpse.
Snore Counter is the easiest App of all. It uses a common screen with Snore Partner, Easy Snore and Snorek FREE that shows the number of snores, snored time, snored time (in percentage) and graphics for the whole night.

This App is limited in features thus the costs are also lower, since the user can not do as much things as with others Apps. For example, Snore Partner shares this same interface, but since it can offer many other extended features at one place, if the user wants them, then has to pay more.
Snore Breath covers the specific needs of those users that want to know about their snoring inspiration/expiration time, probably looking for breath illnesses' information. Sleep Apneas could potentially be also determined using this App and be a product covering the needs of these particular users.
Snore Noise gives facts for users worried about their snore sound level. It covers specific needs and shows the number of snores, their level and evolution over time.
No video selected.