Snorek running on SnoreWare
Launch of the the renewed Snorek FREE v2.00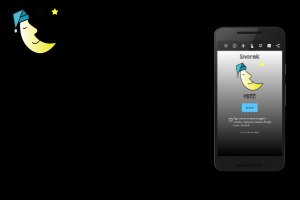 The objective of Snorek 2.00 FREE is to provide with the maximum snore information possible to the user using only a mobile telefon (and the microphone of it) without attached sensors or disturbing equipments. With an easy user experience the App let the user personalise it to his unique needs.

Snorek offers on one side tracking and on the other warnings. Using information from previous nights, the user can set up the App to warn him/her under selected conditions.

Snorek 2.00 belongs to the new generation of products. It is based on the SnoreWare platform, equiped with an improved and new Snore Detection Engine besides of many additional metrics and parameters, digital business oportunities based on InApp products and subscriptions, all handled from within the App in the mobile phone.


Snorek FREE shows all these parameters in graphics. On one side there are graphs that show the eight night hours, adding a data point every fifteen minutes. These graphics provide a 32 data points curbe of our snoring profile for the whole night.

Data can also be seen on the minute. It is possible to know every single minute of the night the number of times we snored. In the same way, the snore noise level of each snore can be seen in a minute-by-minute graphic. Additionally and very interesting as well, are the graphics that show for every single snore, the time when it happened and the time with the next one. This graphic tells us about the inspiration-expiration length of our breath along the night and displays in different colors those snores that are longer than 10seconds, 30 seconds, 50 seconds, 70 seconds or up to 120 seconds.

To be said here as well, that when two snores are separated by more than 120 seconds, they will be counted as belonging to two different cycles, since it should be very rare that one breaths only once every two minutes.

This brings us to the metric-concept introduced in this App of Snore-Cycle. Cycles are the time-periodes in which we are snoring. Say we start at 01.00 and we snore for one hour until 02.00. We have snored one cycle of duration one hour with -who knows- maybe 700 snores.
Snorek FREE counts with all this information distributed in the dashboard and organised in subscriptions. The snore-detection subscription is FREE, but all others required you be registered for as short as one night and as long as years. Subscriptions can be cancelled at any time and are charged per weeks.

The available subscriptions are:

- Snore detection
- Snore cycle detection
- Snore noise-level detection
- Snore inspiration / expiration length


Each of them has configuration parameters that are used for the following two subscriptions: - Snore Warnings on our mobile phone
- Snore Warnings on Wearables

Last but not least, we can use the warning subscriptions to prove certain conditions during the night. We don't have to be warned, but still that situaiton will be tracked in graphs and inform us of our night sleep on the day after.
No video selected.